The crisp air, occasional snow storms, and the buzz of a new semester introduces us into the new year of 2022! Before we jump too far into a season of new beginnings, we are so proud of how far we have come. Reflecting on last year, we are happy to share that we have accomplished our goals in the first phase of the NSF CAREER project  about the information seeking behaviors of marginalized student populations in academic library makerspaces.
What did this look like?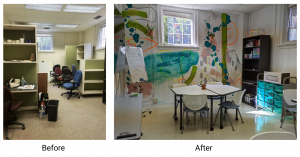 In the garden level of Manning Hall, we transformed an office space into a lab space: the new home of the Equity in the Making Lab. After taking down the cubicles, ripping out the carpet, and repainting the walls, we transformed a corner office room into a bright makerspace that was envisioned by the EiTM team. 
This space is complete with a laser cutter, 3D printer, soldering stations, sewing machine, and Cricut machine. Drawers are filled with the opportunity of crafting supplies and Arduinos, ready to be used. Last semester students used this space to do Arduino work for their class labs, and a book making class was hosted in this space. Adding to the space's ambiance is the mural along the back wall painted by Mimi Stockon, MSLS student, inspired by data collected from Phase 1 of the research project where we asked makerspace leaders, "What are the defining features of a makerspace?" 
In the first phase of the study, we surveyed university makerspaces around North Carolina, to uncover what defines a makerspace. Here's some of the things people said: 
"[A]t its core, a makerspace is an environment in which you can create, and when I say create, that could be any process, any kind of creation"

"It's got a really good vibe to it, it feels like a space where folks can be both creative and technical and it almost has like a laboratory kind of vibe to it like you're experimenting. So you don't feel like you're under a microscope and you can't touch anything when you come in, it's less steril."

"We have 3D print examples of varying types and colors and they're on a clear shelf that mounts to the glass wall so you can see it from either side and any angle and it does spark interest and possibilities."
The first article based on our research, "Description Theory of Makerspaces: Examining the Relationship Between Spatial Arrangement and Diverse User Populations," has been submitted for publication. During this time, Dr. Maggie Melo also published "Where's the 'Video Off' Button in Face-to-Face Instruction?" in Inside Higher Ed. Dr. Maggie Melo and Laura March also published "It's time to tackle perfectionism head-on in the classroom" in Times Higher Education.  Additionally, Dr. Melo, Laura March, and Dr. Kimberly Hirsh presented "Examining the Impacts of the COVID-19 Pandemic on Library Makerspaces and LIS Makerspace Curricula" at the 2021 Association for Library and Information Science Education (ALISE) conference. Currently we are working on publishing a second article which details findings on the defining features of university makerspaces.
The findings from the second article are contributing to the design of the virtual reality makerspace that a local development group, Horizon Productions, is creating for the next phase of our research. During this phase, we will conduct Participatory Action Research with students from traditionally marginalized backgrounds as they enter the virtual makerspace for the first time. This will aid us in discovering what components of the typical makerspace can be improved to be more welcoming and inclusive. Soon we will be hosting pilot studies, which will help us refine our study before beginning official testing. 
This year was filled with exciting progress in creating the EiTM Lab, conducting studies, presenting and publishing our work, and working collaboratively with Horizon Productions to create a virtual reality makerspace. It was also a year of saying good-bye to Dr. Kimberly Hirsh, a valuable researcher and colleague who helped with the nascent stages of the research program. We also welcomed new members to the team, Emily Arnsberg and Rachel Rodney. After recently meeting with the NSF project's Advisory Board, we can't wait to continue seeking to identify and break down barriers students might have towards entering and using makerspaces. 
https://eitm.unc.edu/wp-content/uploads/2022/02/newyearsblogimage-3-scaled.jpeg
1707
2560
Rachel Rodney
https://eitm.unc.edu/wp-content/uploads/2020/08/EITM_LED_LogoBlack3.png
Rachel Rodney
2022-02-01 16:54:19
2022-02-01 16:54:19
Happy New Year! Reflecting on 2021