Summer at the EiTM Lab has been nothing short of thrilling as Dr. Maggie Melo and research assistant Rachel Rodney shared their research findings at two prominent conferences. Their presentations delved into the intriguing world of makerspaces, focusing not only on how students respond to a conventional makerspace but also on a redesigned makerspace, meticulously crafted with student feedback in mind. Based on this research, they created Open Educational Resources to support others who may want to further explore the makerspace experience using VR. 
During the conferences, they shed light on the spatial impact of makerspaces and how they communicate a sense of belonging (or not). The "Conventional" VR makerspace, which offers an immersive experience, was analyzed to understand its impact on student engagement and creativity. On the other hand, the spotlight was firmly on the "Redesigned" VR makerspace, carefully designed to reflect students' feedback.
Information on each of the conferences and the presentations are outlined below.
From the Margins to the Center: What Underrepresented Communities Notice and Feel in (VR) Makerspaces
In early July, they presented the findings from the Redesigned makerspace at MIRA. It was an incredible opportunity to share their work with a diverse audience of researchers, makers, and advocates, all invested in equity and inclusion for makerspaces. Not only were they able to shed light on the barriers historically marginalized students face when engaging with makerspaces but also had the chance to learn about other researchers' and makers' efforts to foster inclusivity.
Virtual Reality for Real Inclusion: Designing Makerspaces with Inclusivity in Mind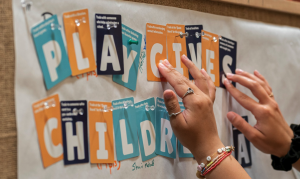 Later in July, the EITM team had the privilege of participating in PML, where they delved into the details of our study. During this event, we were able to present a comprehensive view of our research, providing valuable insights into evaluating inclusive design elements to add to makerspaces. Additionally, they had the opportunity to attend diverse workshops, ranging from flower dyeing and STEM education to embracing the creation of intentionally "bad" and "ugly" art. 
Next Stop: ISAM (International Symposium of Academic Makerspaces ) – October 18-20, 2023
With the success of our presentations at MIRA and PML, we are gearing up for ISAM in October. At this event, we aim to present further findings from our research, building on the knowledge we've gained thus far. 
https://eitm.unc.edu/wp-content/uploads/2023/08/Screenshot-2023-08-01-at-1.43.20-PM.png
435
1019
Rachel Rodney
https://eitm.unc.edu/wp-content/uploads/2020/08/EITM_LED_LogoBlack3.png
Rachel Rodney
2023-08-01 14:09:38
2023-08-01 14:09:38
Summer Spotlight: EITM Lab Shares VR Research Findings at Two Makerspace Conferences