At the EiTM lab, research assistant Rachel Rodney hosted an engaging workshop with 8 high school students participating in a summer ENABLE program through CHIP (Carolina Health Informatics Program). As part of the students' exploration of programming within Health Informatics, EiTM introduced them to the exciting world of physical computing, emphasizing the role of User Experience (UX) in the process.
To lay the groundwork for the workshop, Rodney kicked things off with a brief presentation connecting making and programming in the form of physical computing; this was to ensure that the students had a solid understanding of concepts they would need to utilize before diving into the design challenge. Rodney further emphasized the importance of including the user in the process, influenced heavily by Rodney's background in UX research.
The design challenge was crafted to merge UX principles with physical computing. Rodney presented a persona of Rayna, who uses an upper limb hand prosthetic. Her pain points were two-fold: first, she desired an easier way to create Minecraft figures out of Perler beads, and second, her parents sought a solution to track her emotions (in order to use these data points to discuss later with Rayna).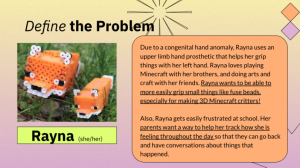 During the workshop, students were reminded to approach this challenge with an open mind while also being aware of the assumptions they might make during the ideation and prototyping stages. 
The design challenge began with rapid ideation, where students brainstormed and sketched various ideas for tackling Rayna's pain points. Following ideation, the students moved on to rapid prototyping. Equipped with low-fidelity materials like pipe cleaners, tape, paper, drawing tools, and string, they set out to create tangible prototypes that would help communicate their ideas. The students created solutions ranging from digital applications to physical devices, and even some that combined both aspects. Below are pictures of some of their prototypes!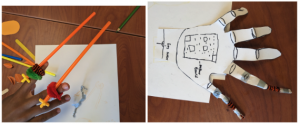 During the workshop, it was evident that these students were already deeply passionate about equity and accessibility across health informatics. Witnessing the enthusiasm and creativity of these students was inspiring. By encouraging them to think about the end user throughout the design process, EiTM hopes to support a new generation of technologists who prioritize the needs of all users.
https://eitm.unc.edu/wp-content/uploads/2023/07/Screenshot-2023-07-31-at-6.48.20-PM.png
378
636
Rachel Rodney
https://eitm.unc.edu/wp-content/uploads/2020/08/EITM_LED_LogoBlack3.png
Rachel Rodney
2023-07-31 18:43:48
2023-07-31 18:48:48
The Bridge Between Making and Computing: A Physical Computing Workshop with CHIP High School Program