Makers Gonna Make: Maker Ed in Remote/Hybrid Learning Environments
Wednesday, October 28, 2020 – 12pm ET/ 9am PT
Many libraries use makerspaces to teach and engage, but during the COVID-19 pandemic, buildings have been closed and people have been distanced. So libraries are doing what they always do: innovate. From student-led remote projects to take-home kits to lists of resources that can be found around the house (sticky rice adhesive!), makerspaces have gone virtual.
Please join Leslie Preddy, Stacy Brown, and Maggie Melo as they discuss big-picture questions about how makerspaces can work at a distance. Moderated by Heather Moorefield-Lang, it's sure to be a lively and informative conversation, and there will be plenty of time for comments and questions. Bring a friend!
Of interest to school librarians, library students, and other librarians working with makerspaces
Discuss how makerspaces can work well virtually
Get and share ideas for innovative maker programs
To get the ideas flowing, check out these short video lessons made by our webinar presenters on creative ways to conduct maker activities with your students—even from a distance!
Sponsored by ABC-CLIO
Can't make it on October 28? Register to be updated when the recording is available for viewing!
Presenters
Stacy Brown is the 21st-century learning coordinator at The Davis Academy in Atlanta, GA. Brown is a national presenter and contributor to professional books and journals on topics relating to libraries, technology, innovation, and education. She is the author of The School Librarian's Technology Playbook: Innovative Strategies to Inspire Teachers and Learners. She is a regional director of the Georgia Technology Competition and a board member of Savvy Cyber Kids, Inc. and Atlanta Area Technology Educators. She can be found on Twitter and Instagram @21stStacy.
Maggie Melo is an assistant professor in the School of Information and Library Science at the University of North Carolina at Chapel Hill. She co-founded the University of Arizona's first makerspace, the iSpace, in the university's Science-Engineering Library. Her research resides at the intersection of innovation, critical maker culture, and the development of equitable and inclusive learning spaces (e.g. makerspaces) in academic libraries.
Leslie Preddy is the school librarian at Perry Meridian Middle School in Indianapolis, Indiana, and instructional leadership editor for School Library Connection magazine. Her book SSR with Intervention: A School Library Action Research Project was named one of the best professional books of 2007 by Teacher Librarian and her book Social Readers: Promoting Reading in the 21st Century, was highly recommended by Library Media Connection. Her latest book is School Library Makerspaces.
Moderator
Heather Moorefield-Lang serves as associate professor at the University of North Carolina at Greensboro in the department of library and information science. Her research is focused on emerging technologies and their use in education and libraries. She has had the honor of being nominated for the White House Champion of Change for Making in 2016. Heather is also the editor of School Library Makerspaces in Action. To learn more visit her YouTube channel "Tech 15" or follow her on Twitter @actinginthelib.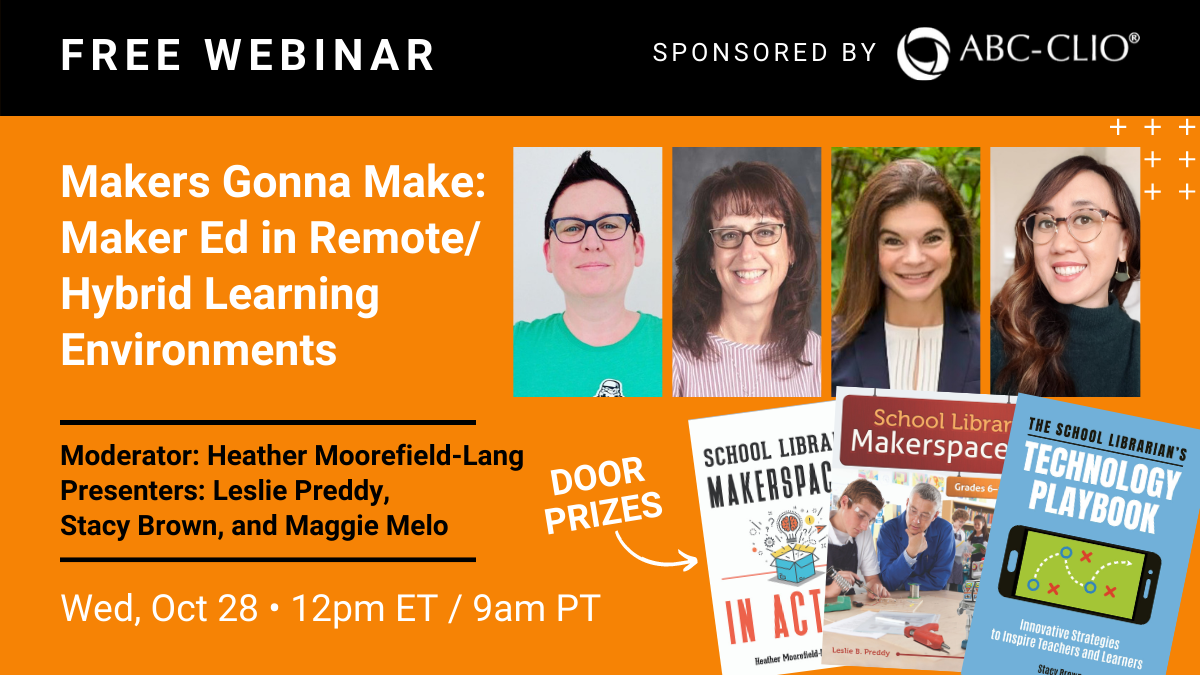 https://eitm.unc.edu/wp-content/uploads/2020/10/WebinarPromoOct28-Twitter-NoDPs.png
675
1200
Laura March
https://eitm.unc.edu/wp-content/uploads/2020/08/EITM_LED_LogoBlack3.png
Laura March
2020-10-22 22:53:55
2020-11-12 22:52:38
Webinar: Makers Gonna Make