New JELIS Article: By The Book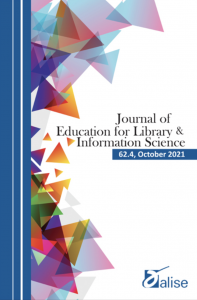 Advance access and a pre-print PDF are now available for our new article published by the Journal of Education for Library and Information Science (JELIS): By the Book: A Pedagogy of Authentic Learning Experiences for Emerging Makerspace Information Professionals.
Abstract
Can LIS curricula dedicated to makerspaces provide an authentic learning experience for future librarians interested in makerspace-adjacent careers? This article presents a case study in which an authentic learning framework is applied to a newly developed LIS graduate-level course on makerspaces. We detail how one class project—entitled "Bibliocircuitry: Old Books, New Ideas"—challenged students to use their newly learned skills to upcycle a hardcover book into a personalized artifact. This article outlines emerging patterns and themes from an analysis of survey responses from 13 of the 15 students in the course. Findings reveal the project readily maps to authentic learning standards, encourages learning, and facilitates reflection (including the negotiation of uncertainty, overcoming debilitating perfectionism, and transformative joy). The study broadens curricular design interventions for LIS educators, highlights the need for deep learning with technologies, and offers an opportunity to narrow the preparation gap between information professionals and the technical and social competencies required in makerspaces. The implications of these findings for the field of LIS pedagogy emphasize the importance of an authentic learning project both to disrupt the absence of LIS maker curricula and to reimagine current one-shot, pressured, makerspace training.
The final version of this article will be published in 2022.
Recommended citation:
Melo, M. & March, L. (2021, October 11). By the Book: A Pedagogy of Authentic Learning Experiences for Emerging Makerspace Information Professionals. Journal of Education for Library and Information Science (JELIS). DOI: 10.3138/jelis-2020-0046
https://eitm.unc.edu/wp-content/uploads/2021/10/JELIS_FeaturedImage.png
1616
2000
Laura March
https://eitm.unc.edu/wp-content/uploads/2020/08/EITM_LED_LogoBlack3.png
Laura March
2021-10-20 11:19:59
2021-10-20 11:19:59
New JELIS Article: By The Book