Dr. Melo's Keynote Talk at University of British Columbia
Dr. Melo delivered a keynote at the University of British Columbia's Inclusive Makerspace Conference on May 25, 2023. The keynote presentation explored the reasons behind students' hesitations at the makerspace threshold, highlighting the need for inclusive makerspace design, addressing feelings of alienation, and offering practical strategies to create a welcoming environment. The Virtual Makerspace resource was also introduced during the talk, "The Virtual Makerspace is a generative tool to gain user reactions and feedback on a makerspace. We invite you to use it for learning, research, and community building purposes, for example. Here are five methods practitioners and researchers can implement using the Virtual Makerspace."
For more information, please see the keynote description below and the presentation slidedeck.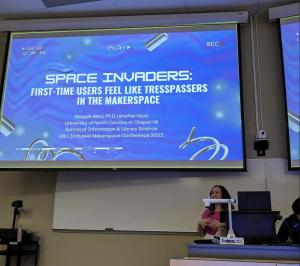 Keynote description:
Why do students turn away at the threshold of a makerspace? The makerspace threshold, where students must decide whether to enter or turn away, is a critical area for educators to investigate. This is because it offers valuable insights into students' gut reactions when making the decision to enter the makerspace. By examining this threshold, educators can better understand why underrepresented communities are hesitant to participate in makerspaces and identify the discrepancies between the Maker Movement's inclusive goals and the actual demographics they attract.
In this keynote, Melo outlines an approach to capture and analyze previously uncollected data on students' real-time thoughts and feelings within a makerspace. By using virtual reality to record students' first impressions and emotions, her research offers a unique perspective on the barriers that prevent diverse user communities from feeling welcome and included. The findings emphasize the significance of permission and purpose for underrepresented students to engage with the makerspace and the importance of addressing the feelings of alienation and exclusion experienced by students. The keynote presentation will not only present the findings on inclusive makerspace design, but it will also offer practical strategies and applications for attendees to use into their own makerspace. Attendees can expect to gain valuable insights and strategies for creating more inclusive makerspace designs that foster a diverse and enriching environment for all.
https://eitm.unc.edu/wp-content/uploads/2023/06/Screenshot-2023-06-12-at-9.53.25-AM.png
1068
1908
Rachel Rodney
https://eitm.unc.edu/wp-content/uploads/2020/08/EITM_LED_LogoBlack3.png
Rachel Rodney
2023-06-12 09:58:19
2023-08-15 11:46:15
Dr. Melo's Keynote Talk at University of British Columbia