Unpacking the Link Between College Affordability, Textbook Costs and Food Insecurity
Problem Statement
This project addresses the financial burden of rising textbook costs on college students and how it affects student well-being and success, particularly for marginalized and non-traditional students. The data physicalization demonstrates the limited resources many students have and the undue strain that textbook costs can have, such as increasing food insecurity. Through this demonstration, we hope to emphasize the importance of library-led efforts to reduce textbook costs through the adoption of OERs (open educational resources) and the creation of textbook reserves programs.
Specific Populations Concerned
The Association of American College & University's 2019 report "Majority of College Students Experience Food Insecurity, Housing Insecurity, or Homelessness" summarizes the highlights of data from The Hope Center's annual "College and University Basic Needs Insecurity: A National #RealCollege Survey Report." In their own words, "The #RealCollege survey is the nation's largest annual assessment of basic needs security among college students. The survey, created by the Hope Center for College, Community, and Justice (Hope Center), specifically evaluates access to affordable food and housing. This report describes the results of the #RealCollege survey administered in the fall of 2018 at 123 two- and four-year institutions across the United States." Previously, over 167,000 students were surveyed over a four-year period, and the most recent report added an additional 86,000 students to that reporting legacy. One of the strengths of the report was the depth in which demographic information was explored, as well as the manner in which intersectionality of identities was highlighted as a compounding factor.
Takeaways:
Heterosexual, male, and female students --> lower rates of basic needs insecurity
Transgender & gender-expansive students --> highest rates of homelessness
Gay or lesbian students --> higher rates of housing insecurity, homelessness
Sizable racial/ethnic disparities in basic needs insecurity exist
Overall rate of food insecurity among students identifying as African American/Black is 58% (~8% higher than that for Hispanic/Latinx students, and ~19% higher than that for White/Caucasian students).
American Indian/Alaskan Native students experience the highest rates of housing insecurity (67%)
Students who are not U.S. citizens are more likely than students who are U.S. citizens to experience housing insecurity and homelessness.
Higher levels of parental education are associated with lower risk of food or housing insecurity
Students who experience the highest rates of housing insecurity are those whose parent(s) have no high school diploma (~64%)
Still, ~32% of students with college-educated parents experience food insecurity, 43% experience housing insecurity, and 14% experience homelessness.
Basic needs insecurity is more pronounced among older students, particularly students ages 26 and older (~74% of students 26-30)
Considerations
While it can be easy to get "lost" in these statistics on face value, it's important to realize and remember that these numbers and percentage correspond to the very real, lived experiences of actual people - students who are struggling to meet their most basic material needs. Furthermore, equity in higher education cannot be realized when such stark disparities exist amongst demographic groups who already experience pronounced, disproportionate challenges and marginalizing factors in everyday life. As such, the exploration of contributing factors and possible interventions and solutions done in this project cannot be undertaken without engaging in critical frameworks that explicitly address the deeply unjust and biased ways in which various student communities experience oppression via food insecurity (and other forms of basic needs insecurity). The systemic, infrastructural factors that contribute to this reality are in many ways outside the scope of what this project could hope to accomplish, but cannot go unacknowledged- broader political policies, racialized and class-ified laws governing the ways in which social "welfare" resources are meted out, as well as a higher education system that reifies and reinforces the status quo of social and economic stratification in the United States. We chose to exclude legal and political recourses such as voting, lobbying, policy-making advocacy, and limited the solutions considered to the ones that were within the everyday purview of libraries and library staff in order to scope our project down to an institutionally appropriate level.

Solutions: Libraries Leading the Way
Ideally, as a society, we should be giving students a "bigger backpack," which would require wholesale, systemic-level changes such as more robust safety nets, higher wages, lowering and/or subsidizing the cost of higher education, etc. However, there are still direct measures that are within the scope of what we as librarians can do to enact impactful change. Two such programs aimed at reducing the burden of textbook costs are through the development and advocacy for open educational resources (OER), and the proliferation of textbook reserves/lending libraries.
OER
Explanation of Concept - ''Open Educational Resources," abbreviated as OER, is a relatively recent concept in higher education, being coined at the 2002 UNESCO Forum on the Impact of Open Courseware for Higher Education in Developing Countries, where OER was defined as ''The open provision of educational resources, enabled by information and communication technologies, for consultation, use and adaptation by a community of users for non-commercial purposes." (Hilton, 2016) The very concept of "open", or freely/universally accessible, educational materials on its face value has the potential to transform the higher education landscape. However, the concept is not without its complexities, particularly in a capitalist, market-driven landscape.
How It Addresses the Issue - The OER model for college textbooks typically involves textbooks that are faculty-written and peer-reviewed, but that are published under an open license rather than a traditional publishing license – meaning that they are available free online (thus, free to download), with printed copies available at a nominal material cost ($10-40, or approximately the cost of printing). (Senack, 2015) Studies show comparable quality between traditional and open textbooks, with no negative influence on student learning outcomes, all at a fraction of the price. (Hilton, 2016)
Limitations and Complicating Factors - While in principle the benefits to students seem to make the use of OER an obvious solution, in practice there are obstacles to widespread adoption. Transitioning from a traditional textbook market to one consisting entirely of open access textbooks proves to be a difficult sell for the lucrative publishing industry. Additionally, it requires a high degree of institutional buy-in from colleges and universities, and higher education's entrenchment in existing models of scholarly publication (along with academia's historical dependence on traditional assessment methods for the evaluation and granting of tenure) indicates a troubling interdependence that leaves students struggling in the lurch. Instead of investing in a future where OER is the norm, we are now left with a hybrid reality where each institution varies in the degree to which it values and commits to OER. Because of these complications and the lack of widespread adoption and awareness of OER, even students who attend institutions that invest in these types of resources aren't always aware of the options that are available to them- and universities don't always make those options clear enough.
Example - Oregon's community college network had a representative join the Open Textbook Network (OTN) and attend a Summer Institute for an intensive training on strategies for 1) raising awareness and 2) methods for adoption of open educational resources. In order to accomplish this, the representative returned to the community college consortia and provided faculty workshops on open textbooks, and a budget was allocated for faculty reviews of books in the Open Textbook Library (data suggests that faculty who write an in-depth review of an open textbook are much more likely to adopt the book in their classes).
Results - 100 faculty attended the workshops, 66 textbooks reviews were subsequently published, 19 open textbooks were adopted, and an estimated $110,600 was saved by students during just the Winter and Spring of 2016. See the following table for more specifics: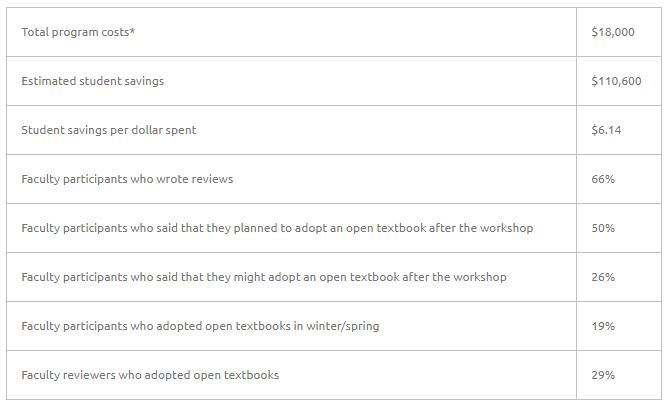 Takeaways:
"Saving students $6.14 for each dollar spent is an excellent return in comparison to other kinds of OER activities such as offering faculty stipends to adapt or create open course materials." (note that comparing the time and return in investment is an important one when considering that one of the principle limitations in the adoption of OER has to do with scholarly publication and the tenure requirements for faculty - incentivizing faculty to adapt or create open course materials can be a very difficult ask, even when stipends are involved, if such activities would directly negatively affect their professional/academic advancement)
"The 50% rate of intended adoption for fall faculty participants was higher than the OTN's average of 40% (Impacts and Benefits). Campus OER coordinators can reach out to faculty who say that they plan to or are thinking of adopting an open textbook after the workshops to ensure that intention translates to action."
"35 faculty who had not adopted an open textbook in winter/spring can more accurately be classified as "not yet" because they intend to adopt during the coming academic year. Our adoption rate and student savings will be higher when we revisit faculty in spring 2017."
Note - All data & quotes in this section can be attributed to Higher Education Coordination Commission: Office of Community Colleges and Workforce Development (2017)
Extend Your Understanding of OER:
Course Reserves, Textbook Lending
Explanation of Concept - Whereas OER, or open textbooks, can be a somewhat more complex solution to the cost of textbooks for students, some libraries have found that course reserves, or textbook lending, can be a simpler, more straightforward option. By keeping an in-house collection of either the most commonly-used materials (or, in some more limited cases, an entire collection), libraries can lend those materials out to students. The specifics of these programs can vary widely, such as formats available (physical vs. digital), whether or not there is a rental fee (rent for a fee vs. borrow free of charge), who is allowed to borrow from the library (any student vs. only "qualifying" students, as determined by eligibility standards set by the university or by the library itself), whether or not the items are allowed to circulate outside the library, and the time periods for which the items are allowed to be checked out (in terms of hours, days, or by-the-semester).
How It Addresses the Issue - Instead of having to purchase a textbook up front, students have the option to loan the textbook for either a reduced fee or free of charge, significantly reducing or eliminating the cost of acquiring textbooks.
Limitations - Depending on the specifics of the lending program, the program can impede the ability of students using the lending library/course reserves from using the textbooks as freely as would a student who had bought the textbook (introducing equity issues that are baked into the very model of the program) - including whether or not the student can leave the library with the book, limits on the amount of time they can have it checked out, how many copies are available (creating scarcity in resources and competition, especially around certain high-demand times), and other concerns. Additionally, the up-front cost for the school can be significant, especially for small institutions with more limited budgets, a wider variety of courses available, and there are disciplinary variations in the average cost of a textbook (for instance, science and business/economics textbooks tend to cost more than those in the humanities), which could lead to potential discrepancies in the availability of resources between departments, even at the same institution. How libraries pick and choose to prioritize allocations of limited funding amongst competing student needs has the potential to introduce additional inequity if there isn't thoughtful consideration going into the policy and procedure of such lending programs.
Example - Brown University's First Generation Low Income Partnership (FLIP) Library. The FLIP Library makes textbooks available, free of charge, to students who may otherwise find it challenging to cover the high cost of texts required for their coursework. This project was initiated after Brown hosted 1vyG 2015, a conference for first-generation college students at Ivy League schools, where a panelist spoke about the FLIP program at Columbia University. This particular model is noteworthy because all of the textbooks in the FLIP collection donated through a book drive at the end of each semester, which is advertised across campus during the pre-exam reading week (thus, depending on the generosity and relative affluence of students' Ivy League peers to contribute to their fellow classmates' education). In order to address the relative demand of certain highly-attended courses (especially ones with more expensive textbooks), FLIP organizers may reach out to professors for more targeted advertising of the program. Ultimately, the books collected are loaned out for extended, semester-long intervals (so that students are able to "count on" having those books for the entirety of their enrollment).
Complications - As one might imagine, a donation-based model comes with its own drawbacks, and marketing the program to "get the word out" is one of them. Additionally, the students who stand to benefit the most have to be aware of the program's existence in order to take advantage of it. This can prove difficult for any university, especially larger ones with decentralized student services that are "siloed" into many different departments. Coordinating a larger-scale marketing and outreach program to reach students can prove challenging.
Example of Partnership - Oregon State University (OSU) - Human Services Resource Center (HSRC) - a one-stop location where low-income students could access all the support and resources needed to successfully manage the high costs of college. "Academic libraries have developed a variety of approaches to help assuage the costs of textbooks in particular, including e-reserves, textbook lending, and Open Educational Resources. However, the impact of these initiatives can be limited if students do not know to look to the library for this type of assistance. [OSU's HSRC represents] a partnership that crosses units within the library and extends out to a campus resource center dedicated to serving students experiencing poverty." (McElroy, Moore, Hilterbrand & Hindes, 2017)
By coordinating textbook lending services from the library with other campus services for low-income students, Oregon State University was able to extend the reach and impact of its programs through consolidation and streamlining efforts. By making these services more accessible, convenient, and transparent, more students were served with a wider variety of services in a single access point in a more equitable fashion.
References
Claremont Evaluation Center, Berry, T., Sloper, M., & Doll, K. (2019). Addressing Food Insecurity Among College Students: The Landscape of the Feeding America Network. Feeding America. Retrieved from: https://www.feedingamerica.org/sites/default/files/2019-10/Feeding%20America%20College%20Hunger%20Landscape%20-%20Full%20Report_October%202019.pdf
Dedman, B. (2019). Majority of College Students Experience Food Insecurity, Housing Insecurity, or Homelessness. AAC&U News. Retrieved from https://www.aacu.org/aacu-news/newsletter/majority-college-students-experience-food-insecurity-housing-insecurity-or
Dixon, J. A. (2016). Brown's FLIP Library Lends Textbooks to Low-Income Students. Library Journal. Retrieved from https://www.libraryjournal.com/?detailStory=browns-flip-library-lends-textbooks-to-low-income-students
Dubick, J., Matthews, B., & Cady, C. (2016). Hunger on campus: The challenge of food insecurity for college students. National Student Campaign Against Hunger and Homelessness. Retrieved from: http://studentsagainsthunger.org/wp-content/uploads/2016/10/Hunger_On_Campus.pdf
Freudenberg, N., Goldrick-Rab, S., & Poppendieck, J. (2019). College students and snap: The new face of food insecurity in the united states. American Journal of Public Health, 109(12), 1652–1658. https://doi.org/10.2105/AJPH.2019.305332
Goldrick-Rab, S., Baker-Smith, C., Coca, V., Looker, E., & Williams, T. (2019). College and University Basic Needs Insecurity: A National #RealCollege Survey Report. Hope Center for College, Community, and Justice (Hope Center). Retrieved from: https://hope4college.com/wp-content/uploads/2019/04/HOPE_realcollege_National_report_digital.pdf
Hilton, J. (2016). Open educational resources and college textbook choices: A review of research on efficacy and perceptions. Educational Technology Research and Development, 64(4), 573–590. https://doi.org/10.1007/s11423-016-9434-9
McElroy, K., Moore, D., Hilterbrand, L., & Hindes, N. (2017). Access services are human services: Collaborating to provide textbook access to students. Journal of Access Services, 14(2), 80–91. https://doi.org/10.1080/15367967.2017.1296769
Open Textbook Workshop Report. (2016, July 1). Retrieved from Open Oregon Educational Resources website: https://openoregon.org/open-textbook-workshop-report/
Senack, E. & The Student PIRGs. (2015). Open Textbooks: The Billion-Dollar Solution. The Student Public Interests Research Groups. Retrieved from: https://studentpirgs.org/2015/02/24/open-textbooks-billion-dollar-solution/
Credits:
Created with an image by stevepb - "school books apples"