Shining Light on the Network Dynamics of Racial Covenants

A Physicalization of University of Minnesota's Mapping prejudice Project
The Dataset
In 2016, a team of librarians, digital humanists, historians, geographers, and activists associated with the University of Minnesota Libraries began working together to expose the racial disparities of property ownership in the Twin Cities. Embracing the value of community engagement as methodology, the team launched a Zooniverse project. The task-based research platform let the team instruct participants on the transcription and classification of historic Hennepin County deeds guided by the search for racially restrictive covenants. Over 7,000 volunteers, 37,000 volunteer hours, and 90,000 deeds reviewed later, the Mapping Prejudice project maintains a web-hosted suite of tabular data, interactive maps, and historicizing media that make it easy to get a deeper understanding of how practices of White supremacy instantiate the racial disparities of real estate wealth that plague communities across America.
The History
Racial covenants are clauses written into deeds of home ownership that prevent the sale or leasing of the home to one, multiple, or all groups of non-white persons. If challenged, the selling owner risked the potential nullification of their claim to the property and the buying owner of color risked eviction. While restrictive covenants dictating terms of land use or sale and practices of housing discrimination both have long histories that leads into the present, racial covenants in the United States have a 31 year heyday informed by the legal machinations of the Supreme Court.
Throughout the Jim Crow era, American cities wrote into law and enforced via police power racial zoning ordinances, permitting sections of cities to be de jure White-only. Although such laws were always in clear violation of the Fourteenth Amendment's Equal Protection Clause, not until Buchanan v. Warley in 1917 did the high court find the blatant governmental housing discrimination to be unconstitutional. No longer able to rely on the government to enforce explicit segregation, after 1917 insidiously creative land developers and real estate agents and attorneys began writing racial covenants directly into housing deeds. The coevolution of racial covenants and the Great Migration, during which millions of Black Americans moved from the rural South to Western and Northern cities, is no coincidence, and led to early legal challenge to racial covenants. Heard in 1926, Corrigan v. Buckley established precedent that racially restrictive covenants were legally enforceable. For over 2 decades, racial covenants proliferated in deeds across the country. It took until 1948 for the Supreme Court to recognize that allowing covenants legal enforceability still violated the Equal Protections Clause and reverse the Corrigan decision with Shelley v. Kraemer. Yet even though covenants had no legal merit in the United States after 1948, racial covenant clauses remained common and popular in new leases into the mid-1950s. Indeed, only the Civil Rights Act of 1948 finally legislated that this performative contract law practice of writing the clauses was illegal.
However, the prevalence of the covenant clauses after Shelley v. Kraemer reveals much about the deeper intentions of the racial covenant clause era in the United States. This passage from the National Association of Real Estate Boards 1924 Code of Ethics illuminates:

Primarily, racial covenants existed to channel wealth and resources to neighborhoods that demonstrated their dedication to white supremacy. Networks of government officials, real estate agents and adjustors, and white home owners used covenants to maintain local cultures of racial discrimination. Persistent racial violence and hostility with a guarantee of absent legal protection enforced de facto segregation ably throughout the racial covenant era (as it does today.) While Corrigan v. Buckley shows that many people of color were explicit victims of covenants, all non-white communities were victimized by the patterns of white wealth hoarding covenants promoted. In Minneapolis between 1910-1953, neighborhood density of racial covenants strongly correlates to new investments by the Board of Park and Recreation. Not only did this amass great white environmental privilege in the city, it also impacted generational wealth by raising the property values of the racially covenanted homes near the park. Current home values indicate manipulation by real estate appraisers too: homes that once had covenants are worth 14% more today than identical homes that never had a racial covenant.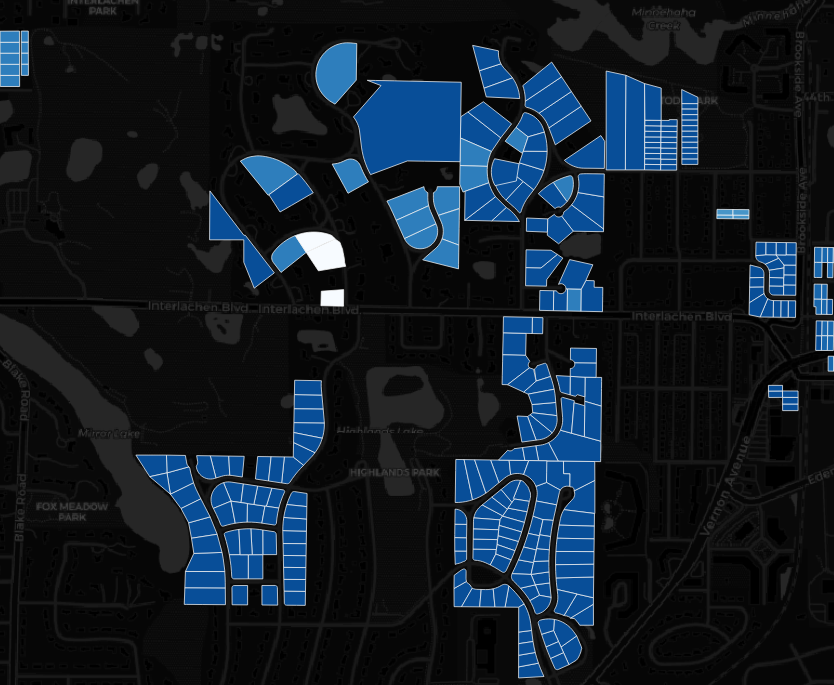 Although no longer enforceable, the effects of racial covenants are still felt acutely. Key instruments of systemic white supremacy, the legacy of covenants perpetuates in the property wealth disparities that plague the United States. Mapping Prejudice now represents a leader of a movement across numerous cities that also have taken on the work of investigating the prevalence of racial covenants in their local history, (e.g., Seattle, Charlottesville, Durham). Consistent to each project is a coterie of librarians, digital humanists, GIS scholars, and other information professionals inspired to bring their professional skills in research, archiving, database design, and data visualization to the work of racial justice. With many more cities to consider and always more datasets of historic patterns of discrimination to compile, the work in this field has only just begun.
The Project
My journey to this topic began with a midday work email. The announcement from the head of special collections invited all Duke University Libraries staff members to join on October 11th for a workshop and transcription session for Durham's own Hacking into History project. At the time, I was aware of racial covenants but I knew little of their prevalence and impact. Given the simultaneity of the invitation to learn more and our data physicalization project, it felt like kismet.
Even though my initial dream to analyze the racial covenant data on Durham from Hacking into History did not come to fruition, I still feel grateful for the guidance their workshop provided me. Their introduction centered the deleterious effects on generational wealth for Black Durham families, the white supremacist conservatism of the legal history, the performativity of covenant writing, and the feelings of frustration and disgust that arise when faced with such blatantly hateful documents that are not even a century old: all motifs I held with me while designing my physicalization. Yet, it was the transcription session that inspired my guiding question.
Although I only processed the transcriptions for a handful of documents, it struck me to see not just distinct phrasing in different deeds, but phrasing between deeds that indicated some relationship between certain deeds and other deeds in relationship with other deeds, etc.. Coupled with confronting the labor of these pre-computer age documents, my imagination considered the pernicious communities of stakeholders sharing their customary and perfected racial covenant clauses. I found that notion of structural racism empowered by multiple quotidian networks of real estate stakeholders both compelling and haunting. I wondered, how many racist realtor/real estate attorney networks were there in Durham? What would a map of Durham look like if we could overlay those networks? What could we learn from analyzing the semantics of each network's phrasing? When I conceded I needed to look for another set of racial covenant data to analyze, I let these questions steer me.
From our earliest brainstorms in class, I pictured using the icon of the home as the canvas for my physicalizations. A space of comfort and safety in the American psyche, the home was the site and occasion for the injustice of racial covenant writing. I want to mark that hypocrisy, to visceralize the iconic American house of children's drawings as sullied by the legacy of covenants. As I waited to see if receiving access to the Durham dataset would work out, I began to research and model the 2D designs in Illustrator for a laser cut home.
On the left, see a snapshot of my final designs. The early stages of shape building and controls included plenty of frustration. But by the end of the design process tasks that had taken me an embarrassing number of attempts I could do at a decent pace.
Lucky for me, when I admitted to myself I had to pivot datasets, in the Mapping Prejudice project, I found a robust multi-faceted dataset for a city I know well and claim. I grew up hearing stories from my mother's childhood in Minnetonka and much of our family remains scattered across Hennepin County. With my house designs completed, it was time to parse the racial covenant text data looking for the phrasing networks that sparked my imagination. I began by opening the dataset in Excel and skimming hundreds of the restrictive covenants. A few phrases immediately appeared prevalent: namely, "Caucasian Race," "colored person," and "African Race."
After reading the source .csv into a Python program and reformatting it as a queryable layered-dictionary, I began by counting each item in the data set relative to the 3 categories I had identified and an "Other" category. I added each covenant instance to a list respective of its category, but for "Other" I also wrote the whole list to its own text file. What followed was an iterative process of identifying phrasing categories, adding them to the phrase counting code, running the script, and reanalyzing the "Other" file. Through this process I identified 8 phrasing networks.
After establishing the 9 network categories, I audited my assumptions. I wrote pseudo-random samplings of 10 covenant instances from each category to their own text file. This allowed me to check for any phrasing networks that may have been combined by previous delineations. Through this process, I identified 2 more racial phrasing networks. Examining the semantic patterns in these lists inspired the designs for the sides and backs of the model house.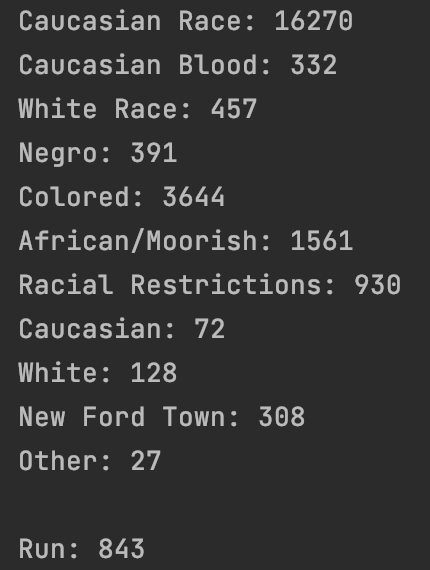 Even at the level of counting stats, the results were intriguing. A vast majority of the 24,120 discovered covenants used the phrase "not of the Caucasian Race," specifying the restriction as a negation, as a lack of "whiteness." On the other end of the spectrum, the next two most common phrasing networks marked racialization declaratively. Yet while "grantee can not sell or lease said real estate to a colored person" utilizes pernicious brevity, the most common "African Race" phrasing is maximalist: "The said party of the second part hereby agrees that the premises hereby conveyed shall not at any time be conveyed, mortgaged, or leased to any person or persons of Chinese, Japanese, Moorish, Turkish, Negro, Mongolian, or African blood or descent. Said restrictions and covenants shall run with the land and be binding and obligatory upon grantee herein, his heirs and assigns." This phrasing also often included provisions that the racial restrictions "run with the land," a legal term of art implying that the covenant lasts in perpetuity, adding a level of temporal maximalism as well.
Having analyzed the data and produced satisfying network categories, I had to learn GIS software to manipulate each lot representation on the shape file Mapping Prejudice provided into 1 of 11 color classifications. After heavy googling, I produced a simple .csv in Python consisting solely the Doc_ID, (which was consistent between the covenants table and the map file,) and its category designation.
Once I input the file to my QGIS project as a data-only layer, I left joined the category column (as integers) to the attribute data table and used the arithmetic classification capabilities of the software to create a grey scale rendering of the map best suited for raster engraving. For this online presentation, I changed the color gradient to blue and added a dark mapping layer to give identifying context.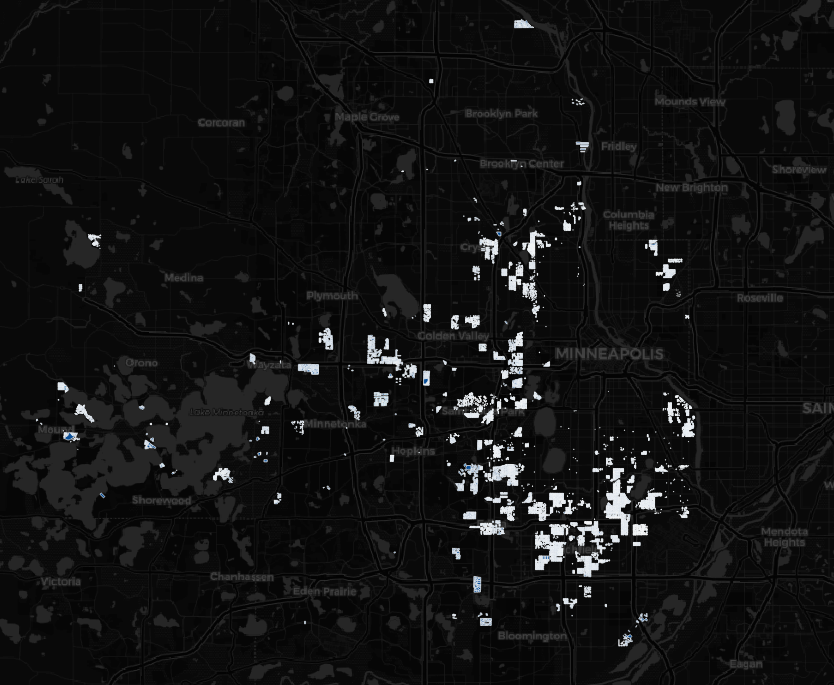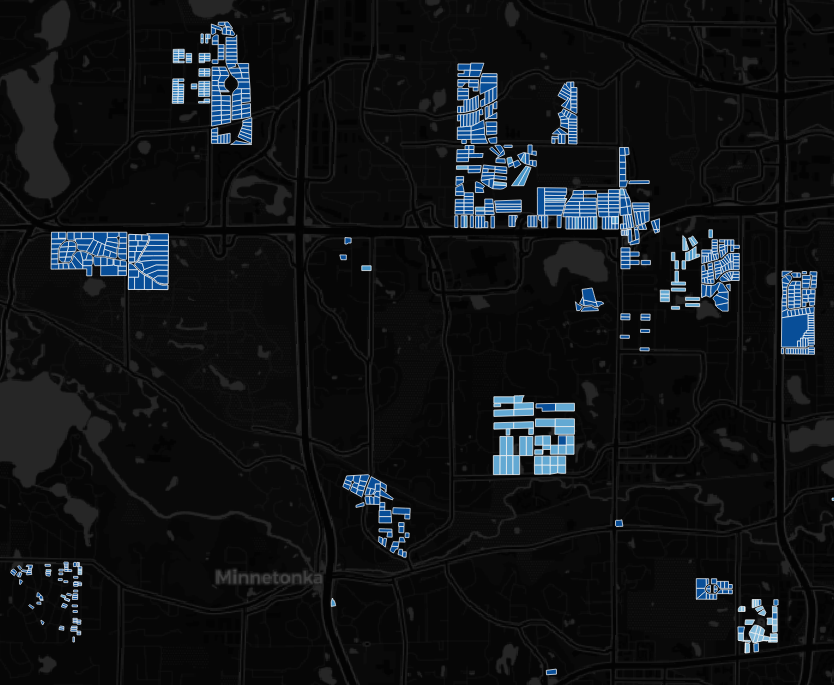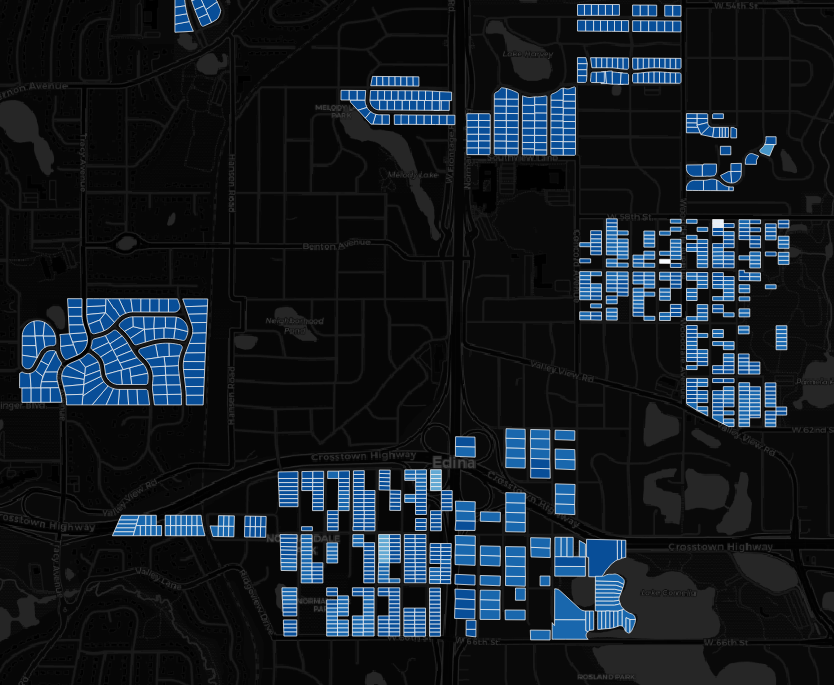 The Point
Despite some pride in accomplishing something quite close to my vision with my networked map of Hennepin County's racial covenants, a looming question of "the point" hovered over me throughout my coding and crafting. After stepping back from the project to reflect, I admitted that beneath my uneasiness was a question about the impact of digital humanities projects like Mapping Prejudice or Hacking into History and questions about the impact of the theory that girds them. Periodically shining light on the hidden reality of racial covenants does not undo decades upon centuries of stolen generational wealth. Even acknowledging the radically honest truth, propounded by critical race legal theorist Cheryl L. Harris, that whiteness in American history is inextricable from the selective legal enforcement of the right to own property only accomplishes so much. Theory can let us see with new eyes that whiteness as property depends on persons of color being treated as property, legally and socially, but it cannot undo that treatment or its concomitant, repercussive trauma.
Motivated by these reflections on the capabilities and deficiencies of theory education, my house presents a challenge to its witnesses. From within the home, an Adafruit Circuit Playground will emit light every second. It visualizes the 24,120 covenants at random, corresponding each network category's frequency to a distinct color pattern; each flash is the repercussion of that covenant into today. The only way to stop the stream of covenants is by shining enough light onto the source of the flashes itself. A flashlight is provided, but do you have what it takes to stop the light?