Making as Process

seeking connection through creation
Jennifer Bilton and I met while checking in at the Atlanta airport in 2014. We were going on the same study abroad program in England with a group from our undergraduate university, and my mom asked her to walk with me to the terminal. We spent the next two and a half weeks exploring England together, laughing, writing, pretending to be Holmes and Watson, eating well, avoiding death by speeding London traffic, reading Victorian novels, making inside jokes, and becoming fast friends. We have supported each other in so many ways, and it has been one of my greatest joys and inspirations to watch her bloom into her art and carve into her life the creative space that she dreamt of occupying when we first met.
Playing with colour, texture, shape, and mixed media is essential to Jennifer's practice. So are words. Much of her inspiration comes from songs, poetry, a quotation--words found in the wild.
These hoops hang above my bedroom bookshelf. The skull and flowers, a birthday present a few years ago--Memento Vivere--"remember you must live." The peace on earth hoop was one of the earliest I got from Jennifer; hopeful birds, butterflies, hearts in shades of blue. The hoop with "as you wish." she made with watercolors on fabric and silver thread for stars. It's the most recently made of the three, and it shows how she was exploring more in abstract ways, with color and shape.
Writing, for us, is also a form of making. For my first birthday after we became friends, Jennifer sent me the handmade card in the top right: "Birthdays are nature's way of telling us to EAT MORE CAKE." We choose cards that the other person will laugh at or love, snail mail as care. My favourite is the one with two bears that says, "I'm here for you."
The way that Jennifer makes art is an expression of herself, and of the beautiful, sparkling mess of life. The doubts, questions, and curiosities, and the bright splashes of play. In some ways, our practices are similar. We both use art and making as therapy, as a way of asking the question and, sometimes, of making our way into the answers. Mostly, it's about connection. With the world, with words, with others, and with ourselves.
Now here's what I have made, O Reader, for you....
I love a loose definition of making. I love the expansive promise of a liminal space. I also love wrecking a thing that I think is given false reverence. There was something viscerally satisfying in coloring over the words of Major British Writers, Vol. II, Enlarged Edition with black crayon. I make redacted poetry as an act of reclamation and defiance, but I also love the art of making tenderness out of tedium. I included one of Jennifer's business cards, too; watercolor waves and the message to carry on. "a collection of fine minds / a little of the best of each, / in planning this collection / I have chosen the inimitable self"
In addition to the analog components of the book, I included the Adafruit circuit playground as a randomized color palette picker. This is both a nod to Jennifer's recent practices with set color palettes in her art and something to use as a starting point when the person making something in the book is feeling blocked or uninspired or just curious about what their colors of the day might be. Each color displays for 5 seconds so that the user can make a note of the colors (or quickly grab them from a nearby box of crayons.) I'll show you how it works in the video.
The rest of the book is empty, waiting for you! It's an invitation to collaborate, with me and the others whose hands move across its pages. Making is relational, and I want this project to be touchable. I want it to be lived in, written in, messed up, blacked out, and pasted over. The book itself isn't holy, and neither are the words printed in it. What has meaning and power is the space that we create therein, the space we hold for each other, and the space that we make for ourselves. Sometimes our art is a way to ask a question, and sometimes it's an answer. And sometimes, it's just an intent in that direction. See me, and I'll see you right back.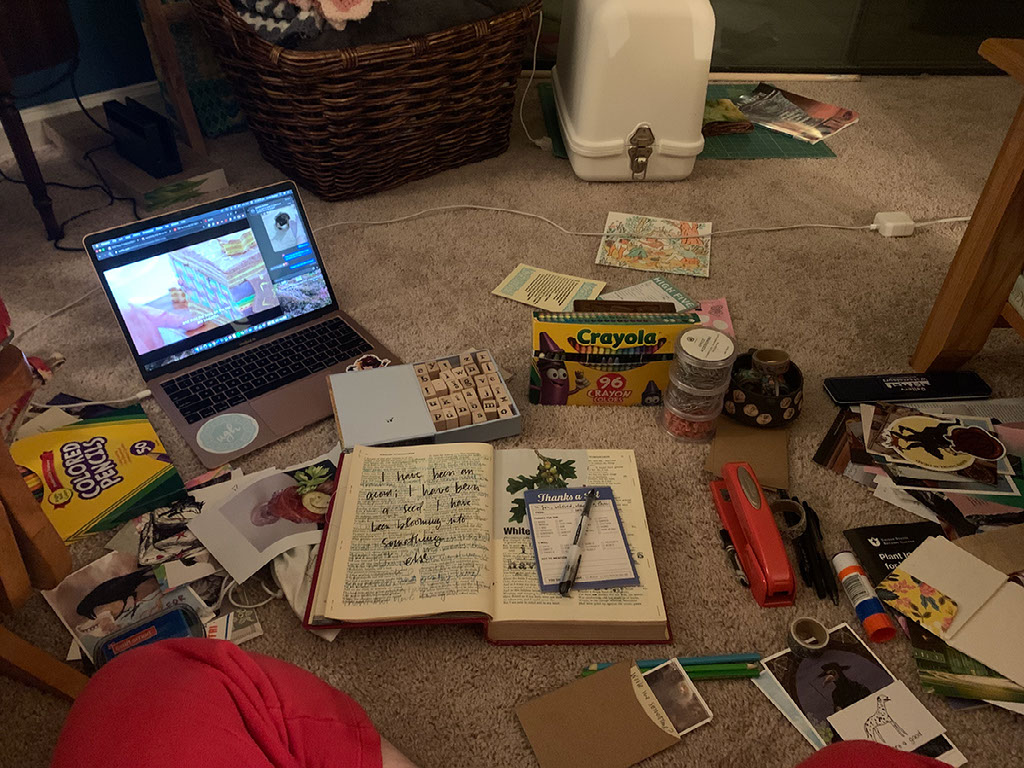 Credits:
photos taken either by me or by Jennifer Bilton